Lets put the fear in fundraising
As fundraisers we know rationally that people make decisions based on emotions, but how often do we acknowledge when this happens to us?
Yesterday I had a moment of fear as I stood on stage at IFC and looked out into the audience.
I'm not sure why this fear came as a surprise as fear has driven much of my career. I have learned to use it in a positive way, as a sort of barometer. Essentially we are all deeply scared of failing, so the more we care about something, the more painful the thought failure becomes, so, my reasoning is if it feels scary then it's probably worth doing.
I spoke about the need to develop emerging leaders and that in the quest to spot and develop talent we have to take some risks. I spoke specifically about my experience of employing people based on attitude over experience.
When you find someone that can light up a room with their passion, inspire the interview panel, and bravely show their vulnerability by accepting that they don't know the answers but are not afraid of asking for help and working with others to find them. Your gut feeling is to give them the job.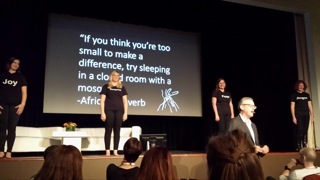 Then we often get caught up in the form filling and tick box exercises required by the organisation.  If this exceptional individual does not have all of the relevant experience required on the form their passion, enthusiasm and attitude counts for nothing.
I believe that, in the same way you learn reading, writing and arithmetic at school, you can also learn fundraising skills; you can learn to present a winning corporate pitch, to successfully ask a major donor for a gift or to produce an excellent direct mail pack. What I don't think you can easily learn is attitude.
And that's where the fear comes in. If feels safe to fill in a form about someone's capabilities. It's much harder to stick your neck out, and go against the 'normal' convention, trust your gut instinct and take a chance on someone that has attitude over experience.
The thing is that we are not in the safety business; we are in the change business and that involves a degree of risk.
Change is an over used word, it can feel clichéd, it gets used so much that it lacks meaning.  But one thing that I have learned is that fear and change are close allies. If we are going to do the best jobs that we can to change the world, then we have to work with the fear that making change happen conjures up. We have to acknowledge our fear and use it in a positive way to drive us forward to achieve greater things.
I issued a challenge to the audience yesterday to change something today. It doesn't matter if it is big or if it is small. Because the more we challenge ourselves to change, the more competent we become at confronting the fears that hold us back and the more chance we have of making a difference.
You can join us and be part of the future and pledge your change here. http://www.growbevalue.com/
—–
You can also watch the webinar 'The emerging fundraising leadership challenge' with Tony Elischer and Rory Green for FREE (TODAY 16 October 16:00 CET) by clicking HERE.
——————————————————————————–
This post is part of the 2014 IFC Series. 101fundraising is proud to be the blog partner of the International Fundraising Congress!