5 fundraising insights learned from Fundraising Online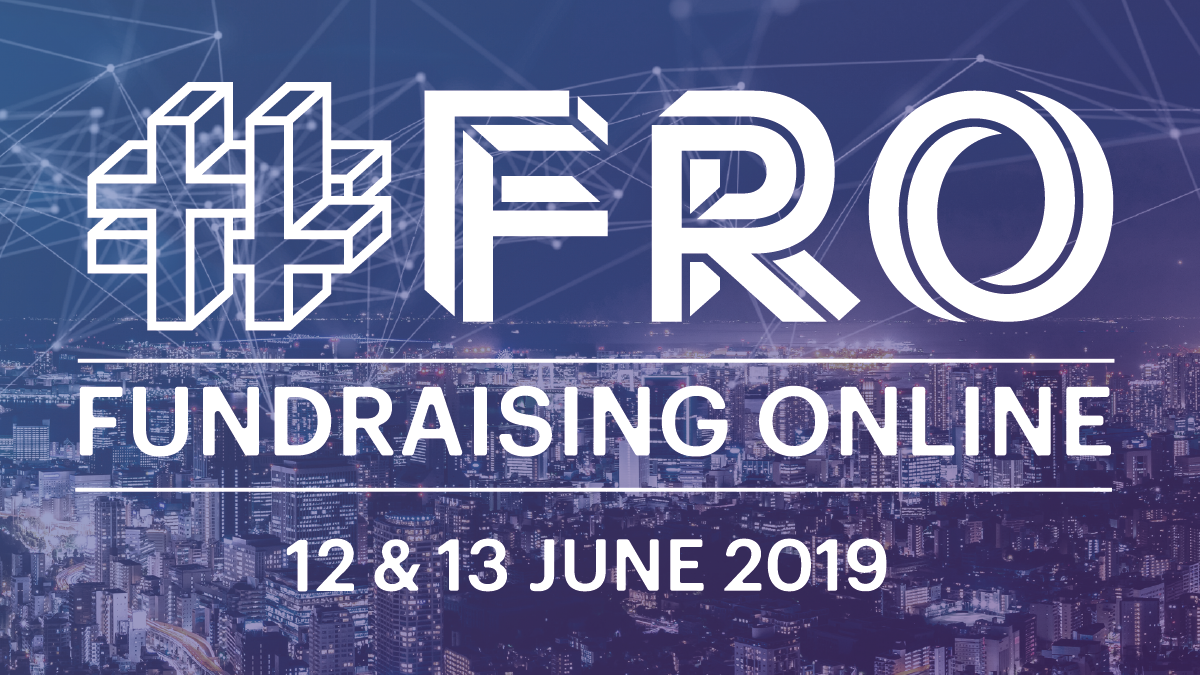 Over 5,000 fundraisers and changemakers from 130 countries joined Resource Alliance's free online conference, Fundraising Online (#FRO), this June 2019.
26 stellar speakers from 14 countries shared expertise and experience of harnessing digital trends and technological change. We're incredibly grateful to all our speakers, and excited as always to see global innovators and organisations – large and small, old and new – logging in to learn and share.
With a focus on how to use emerging and disruptive tech, and what's coming next, there was fundraising, changemaking and innovating insight for all.
Running #FRO as a free online conference was the perfect way to get a preview of what takes place at IFC 2019, the Resource Alliance's flagship event.
You can watch all the #FRO 2019 sessions again or get a taster below of some of our key highlights and insights.
1. It's the end of the beginning for online giving
Steve MacLaughlin, vice president of data and analytics at Blackbaud in the USA, and bestselling author of Data Driven Nonprofits, called on organisations to stop treating online giving like a new thing.
As Steve outlined is his session: "Online giving is a grown up, it's moved out of the house. Online giving is just giving and its 20 years old."
Old siloed thinking and channel boundaries need to be torn down. The organisations that transform themselves to embrace the ever faster change coming and reap the rewards, will be those who optimise, diversify, go mobile and multi-channel.
2. We make giving on our websites too hard
Giving is an emotional decision, not a rational one. But if in the middle of the giving process you have to start applying rational thoughts – tackling a poor donation form, you have lost the emotion and all too often, the donor.
Beate Sørum of b.bold, Norway, shared key considerations on donation forms – the psychological factors that impact your donors on their journey, techniques and tools to start turning your well-wishers into donors.
With all the innovation happening in our handsets, homes and behaviours, we must not forget to constantly perfect this key route to online funds.
3. Alexa, WhatsApp, Self-shot video – are you innovating like this?
As well as sessions around more traditional fundraising and changemaking activity, #FRO also featured a range of sessions looking at the latest tech and digital fundraising innovations.
Get energised and inspired by these three powerful innovation case-studies:
Alexa – donate now!
Can you afford not to engage with voice as a channel?
Louise Corden of the UK's NSPCC shared how they, and other global nonprofits are using this new tool in our homes to deliver fundraising, engagement, and service delivery.
WhatsApp mobilisation
"We reached people we never imagined."
Mario Alvarado, of Amnesty International Colombia, explores their successful WhatsApp crowdfunding experience, which engaged new, hard-to-reach audiences, direct to their handsets.
Small movies, big impact
Nikki Bell, of KEDA Consulting used self-shot video to revolutionise supporter engagement at the British Heart Foundation, turning fundraisers into filmmakers with minimal effort.
Should this low-investment, high-impact video that can provide authenticity, cut-through and big results, be part of your communications mix?
4. Growth hacking, data science and social listening – learning from start-ups
Another thing made clear from multiple #FRO sessions was that learning from the startups is a must for the third sector.
From the latest data tools and analysis, to the innovative, eclectic team you need to build, from developers to data journalists.
Combining on and offline, tradition and innovation, Filipe Pascoa, of Trackmob, Brazil, showed us what new teams and approaches are possible, with Transparency International Brazil's United Against Corruption Campaign.
The team used gamification, influencer mapping with social listening, WhatsApp groups and principles to reach micro targeted audiences.
Helping deliver $150,000 USD donations, 600,000 engaged leads and 2,000 regular donors (without even asking for donations) in the 2018 Brazil elections period.
"Data science + social listening = your new power team." Filipe and his colleagues used the tech of tomorrow to deliver impact today.
5. Think big, start small, seek impact
Ann Mei Chang, author of Lean impact: How to innovate for radically greater social good, shared the theory and the practice behind successful social innovation, from her interviews with over 200 organisations across sectors and geographies.
Ann Mei found that transformative change will not come from business as usual.
Instead, greater impact at far greater scale is possible if we adapt the best practices of innovation: setting audacious goals, taking measured risk, running lightweight experiments, driving fast feedback loops, and focusing on the metrics that matter.
The result will better address real needs, improve cost-effectiveness, and unleash the possibility of true scale.
Register for FRO 2020
Over 5,000 participants from 130 countries joined us over the two days of the Fundraising Online conference in 2019. We expect #FRO 2020 to be even bigger and better, so register your interest now.
And for even more fundraising and changemaking inspiration, there's IFC which brings together over 1,000 fundraisers and changemakers from over 60 countries and 500 global organisations. Find out more and register for IFC 2019 here.